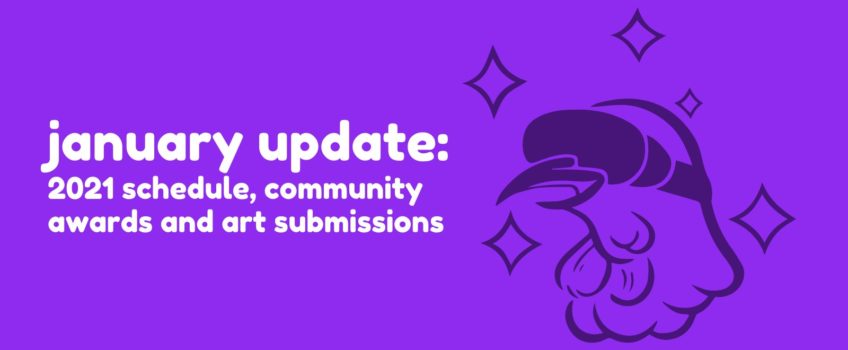 Ngā mihi o te tau hou! ?
Let's bring in the new year with a bang! The NZGF team is stoked to announce our full schedule for 2021. Check out the graphic schedule below, with more details to come later this month.
Further details coming soon!
No one likes a crowded inbox, so we want to be sure we're delivering the most relevant information to you. To this end, we'd love if you could take just a few seconds to complete our super quick survey.
This survey is just to confirm which events you're interested in hearing about, so we don't clog your inbox. If you're seeing this newsletter from one of our social platforms, you can also sign up to our mailing list through the survey.
What else is new?
Pavs community awards nominations open now!
Know someone who really takes the cake? Now's your chance to nominate an industry pillar or unsung hero for the Pavs community awards.
Māori and Pasifika art showcase submissions
The Platformer exhibit at Level Up showcases game art and fan art by diverse artists. In 2021, we're shining the spotlight on Māori and Pasifika artists.
We'd love to promote your art — click the button below for more information and to submit.
In case you missed it...
Thinking about attending Play by Play in 2021? Check out our 2019 Keynote speaker Nick Suttner as he shares his experience working with indie developers at Playstation and Oculus.
That's us for now!
Keep an eye out for more later this month including:
? Play by Play speakers and schedule
? Workshops for kids, teens and adults
? More event details