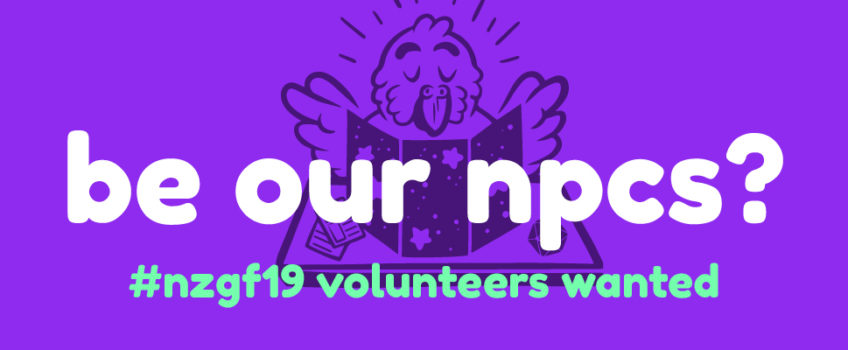 Update 10/02/2019: Thank you so much to everyone who applied to volunteer at NZGF 2019! Applications are now closed. We'll be in touch with our chosen volunteers soon.
---
Kia ora! NZ Games Festival is looking for volunteers to contribute to the atmosphere of our events, ensure the best experience for our guests, and make the NZ Games Festival the greatest it can be!
The NZ Games Festival takes place in Wellington, New Zealand, and we're looking for your assistance with any of the following:
Level Up Exhibition (April 19 – April 27)
You will be engaging with people from all walks of life. Ensuring the smooth running of the exhibition through supervising the games and visitors, ensuring a safe environment, and enabling conversation to build a fun inclusive atmosphere. You will be helping out with the logistics of keeping the exhibition space functioning whilst also representing the enthusiasm of our games industry.
The Play by Play Conference (April 26-27)
Running two full days, the game developers conference requires a number of roles to be filled. You will be helping with running attendee registration, timing speakers, and helping attendees get the most out of their day by helping ensure everything runs to schedule. Click here for more details about Play by Play.
A Range of Satellite Events (April 19 – April 27)
The NZ Games Festival run a number of one off events throughout the week. Everything ranging from workshops for all ages, to networking events, to fun social competitions. You will be providing assistance in the setting up, packing down, and anything in between to help these events run smoothly.
The Pavs Awards Night (April 27)
To end the NZ Games Festival we will be holding The Pavs Awards. These awards recognize local game developers and their games over the past year. In order to help this event run smoothly we need a few volunteers to help out with setting up and packing down the venue and other small jobs throughout the night.
If you're selected to volunteer, you'll receive the following:
A free ticket to the Play by Play conference and The Pavs awards night.
A NZ Games Festival T-Shirt
Refreshments while volunteering
Volunteering at the NZ Games Festival is a great way to give back to the Wellington and Aotearoa community, whilst representing our game development industry. Check out https://actionac.net/. More details about expectations and requirements will be provided once we have selected our volunteers.
Applications close on Sunday February 10th at 6:00PM NZST. We will get back to you regarding whether or not you have been selected as soon as possible. If you have any questions, please contact Liam (NZ Games Festival Volunteer Manager) at Liam.J.Dick@gmail.com.
So, if you're ready to volunteer as tribute at NZ Games Festival 2019, fill out the form below!