choose your fighter!
NZ Games Festival is excited to bring you Character Select, a games themed cosplay event, in 2019. Gamers all across the country are celebrating their favourite games in unique ways – and cosplay is one of the most spectacular!
Character Select is open to amateurs and seasoned cosplayers alike, as well as having categories for home-made and bought costumes. We want to welcome all kinds of cosplayers to take part and have a great time. You can also attend in cosplay regardless of whether or not you want to compete, or in your civvies if you just want to watch!
This year, we're introducing the exclusive Professionals category so those working in costuming or related professions can compete.
In addition to fawning over beautiful cosplays, you'll get to have fun with likeminded people, earn spot prizes and maybe even learn a thing or two at our half-time tutorials.
event details
---
Suitable for all ages.
Saturday 20 April, 10 am – 3 pm.
Competition entries close 5pm Friday 19 April. Please click here to read the rules.
Changing rooms will be available at the venue for cosplayers.
As the venue is right by Cuba Street, there are plenty of food options available for attendees during the break. You are also welcome to BYO food and drink, but no alcohol is allowed on the premises.
IMPORTANT: Some costumes & props MUST only be worn/taken out of transport gear at the venue – please click here for more details.
ticket prices
---
$15 for ages 16+
$10 for students
$5 for under 16s
$10 discounted ticket for competition entrant assistants
Prices are GST inclusive.
schedule
---
10:00 am – Doors open
10:30 am – Welcome 
Introductions and housekeeping presented by Jayveeka cosplay.
10:45 am – Competition catwalk
Competitors will walk the runway before leaving the stage to attend judging.
11:00 am – Mini gaming quiz
Non-competitors can have fun and earn spot prizes answering games-themed pop quiz questions
11:30 am – Extreme cosplay making challenge
Jayveeka cosplay challenges you to make your own cosplay out of newspaper and cardboard! Using only a single reference photo, you'll craft a costume in only a few minutes.
11:45 am – Lunch
12:45 pm – Professional prize giving
Competitors in the professional category will be awarded.
1:15 pm – Live foamsmithing demo
R31 Studios will demonstrate how he creates incredible costumes and props out of foam, providing you with helpful tips to try yourself.
2:00 pm – Cosplay photography as a genre
Little-Noise Photography will discuss her approach to cosplay photography and give you some valuable insight into perfecting your shots whether you're a cosplayer or a photographer.
2:45 pm – Made, Bought and Best in Show prizegiving
We'll announce the final prize winners and get everyone together for a group photo!
3:00 pm – Event ends.
location
---
te auaha
competition prizes
---
best equipped
Awarded to best in show.
Worbla NZ Prize Pack
Sponsored by Worbla NZ. Half sheet 3, 5, and 10mm HD foam + foam clay pot & small sheet Worbla Black and Pearly Art.
(valued at around $130)
Cosplay branding package
Kindly donated by Jess Woodward, NZGF's media designer. Logo, social media header & icon, 250 coscards delivered to anywhere in NZ.
(valued at $150)
Cosplay videoshoot
Kindly donated by Fish & Swallow (30min shoot + 60-90 second edit).
(valued at $180)
best forged
Awarded to best in the Made category.
Movie Blood & Chainmail Workshop voucher
Sponsored by Weta Workshop.
(valued at $49)
$15 Worbla NZ voucher
Sponsored by Worbla NZ.
$20 Spotlight voucher
best looted
Awarded to best in the Bought category.
Cosplay Photoshoot
Kindly donated by Goodie Cosplay.
(restrictions apply)
$20 Sweet Release voucher
Kindly donated by Sweet Release.
best enchanted
Awarded to best in the Professional category.
Worbla NZ Prize Pack
Sponsored by Worbla NZ. Half sheet 3, 5, and 10mm HD foam + foam clay pot & small sheet Worbla Black and Pearly Art.
(valued at around $130)
competition judges
---
r31 studios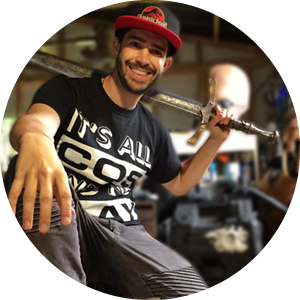 Steve Pearson, aka, R31 Studios is an English born cosplayer and propmaker specialising in working with EVA and PE foams. He hosts weekly Tips & Tricks posts for foamsmithing and free patterns to share his experience and knowledge with the wider community.
You can catch him over at R31Studios on both Instagram and Facebook.
static cosplay
Sylvie Kirkman is a local cosplayer and photographer with over a decade of experience in costume making. Since 2009 she has been photographing the Cosplay community locally and abroad, and is currently working on her second photo book of kiwi cosplayers.
You can find Sylvie on Facebook and Instagram.
spicythaidesign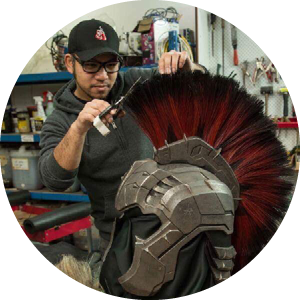 Sanit Klamchanuan (Spicythaidesign) has been making props and costumes for the past 6 years. What started out as a hobby, has since become his full-time job. For the past 4 years, He has been working for the award-winning Weta Workshop in their costumes department and contributing to movies such as Power Rangers, Ghost in the shell, Pacific Rim Uprising, and Wandering Earth.
You can find Sanit on Facebook and Instagram.
competition rules
---
Click here to see the full competition rules.
sponsors
---

buy tickets
---